Plenary sessions and the public talk take place in the room
0.03

on the ground floor
Parallel sessions take place in the room
1.01 (Cosmo)

,

1.02 (Strings 1, 3, 4)

,

1.03 (Strings 2, Pheno)

on the first floor
8:30 – 9:10 Registration

9:10 – 9:15 Welcome
9:15 – 9:45 Liam McAllister Threefolds with Large Picard Number
9:45 – 10:15 Anne-Christine Davis Recent Developments in Modified Gravity
10:15 – 10:45 Coffee break
10:45 – 11:15 Ignatios Antoniadis Inflation from supersymmetry breaking
11:15 – 11:45 Stephan Stieberger Strings on Celestial Sphere
11:45 – 12:15 Marika Taylor Asymptotic symmetries and their observational consequences
12:15 – 14:00 Lunch break
14:00 – 14:30 Andre Lukas Calabi-Yau Manifolds and SU(3) Structure
14:30 – 15:00 Michele Cicoli Cosmology of Fibre Inflation models
15:00 – 15:30 Sven Krippendorf Explorations in SUSY and String Theory Parameter Space
15:30 – 16:00 Coffee break
16:00 – 16:30 Patrick Vaudrevange To chart the Landscape of Heterotic Orbifold Models
16:30 – 17:00 Fabian Ruehle Reinforcement learning in string theory
17:00 – 17:30 James Halverson String Theory and Data Science
9:15 – 9:45 Hans Peter Nilles CP violation from strings
9:45 – 10:15 Fernando Marchesano The type IIA flux potential and Freed-Witten anomalies
10:15 – 10:45 Coffee break
10:45 – 11:15 Emilian Dudas Axions in gauge anomalous U(1)'s effective models
11:15 – 11:45 Iñaki García Etxebarria Anomalies, string universality, and model building
11:45 – 12:15 Miguel Montero More on global anomalies
12:15 – 14:00 Lunch break
14:00 – 14:30 Ivonne Zavala Mechanisms for Primordial Black Hole Production in String Inflation
14:30 – 15:00 Raffaele Savelli Global Aspects of T-branes
15:00 – 15:30 Irene Valenzuela Massless Towers of States, Field Distances and the Swampland
15:30 – 16:00 Coffee break
16:00 – 16:30 Ulf Danielsson Riding a dark bubble
16:30 – 17:00 Marek Lewicki Cosmic Archaeology with Gravitational Waves from Cosmic Strings
9:15 – 9:45 Burt Ovrut Non-Perturbative Bundle Moduli Superpotentials in Heterotic String Theory
9:45 – 10:15 Gary Shiu Topological Data Analysis for Cosmology and String Phenomenology
10:15 – 10:45 Steven Abel TBA
10:45 – 11:15 Coffee break
Moduli stabilization and F-term uplifting in semi-realistic magnetized orbifold models
Kinetic decoupling and gauge invariance of the resonant annihilation in a vector dark matter model
Effects of fixed-point localized mu-terms in flux compactifications
12:30 – 14:00 Lunch break
SO(32) Heterotic Line Bundle Models
On Calabi-Yau Compactifications with Large Picard Number
15:15 – 15:45 Coffee break
A systematic mass insertion approach to lepton flavor violation in the MSSM
Black strings, one-loop Chern-Simons terms, and F-theory
Damian Kaloni Mayorga Pena
U(1) SYMMETRIES WITH HIGHER CHARGE SINGLETS IN F-THEORY AND TYPE IIB
9:15 – 9:45 Misao Sasaki Scalaron as a heavy field and formation of primordial black holes
9:45 – 10:15 Keith Dienes Darkness from the Bulk: An Alternative Approach to Dark-Matter Physics
10:15 – 10:45 Wilfried Buchmuller Flux compactifications and the hierarchy problem

10:45 – 11:15 Coffee break
11:15 – 11:45 Thomas Van Riet Is dS space in the Swampland?
11:45 – 12:15 Mirjam Cvetic Global F-theory Standard Models
12:15 – 12:45 Robert Brandenberger Superstring Theory and Nonsingular Cosmology
19:45 Reception at the Kazimierzowski Palace (Main Campus of the University)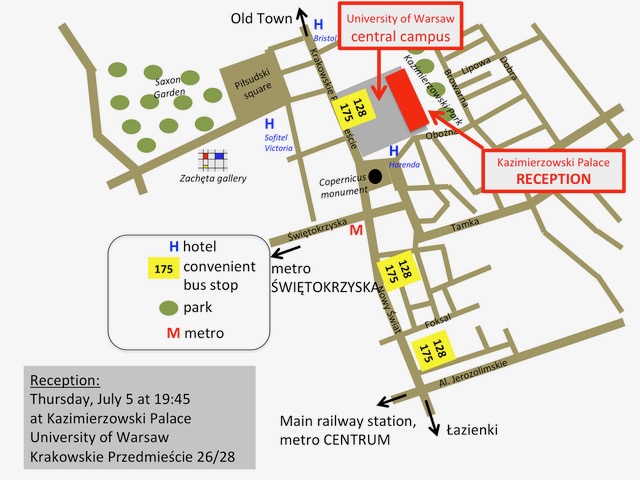 To board the buses 128 and 175 one needs to go to the bus stop at Żwirki i Wigury Street, located near the corner of Banacha and Żwirki i Wigury (in the direction towards the city center).
9:15 – 9:45 Shinji Mukohyama Horava-Lifshitz cosmology revisited
9:45 – 10:15 Michał P. Heller Why some string theorists care about complexity?
10:15 – 10:45 Daniel Klaewer The Refined Swampland Distance Conjecture in Calabi-Yau Moduli Spaces
10:45 – 11:15 Coffee break
11:15 – 11:45 Timo Weigand Global symmetries in F-theory
11:45 – 12:15 Geraldine Servant Higgs relaxation after inflation
12:15 – 12:45 James Gray Aspects of F-theory from a total space approach